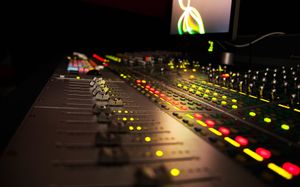 FAQ:
New to DigitalBeatz, LLC®? Here's everything you need to know
We understand that the idea of buying instrumentals online may seem a bit weird to some inexperienced shoppers. For the record, this is a relatively new industry, however, we're on the cutting-edge of its advancements, and are one of its premier brands. 
So there's no confusion, we've decided to put this page together to clearly explain what the online music production industry is all about, and more specifically, how we operate. 
WHO WE ARE & WHAT WE DO 
DigitalBeatz, LLC® is a production company, offering industry-standard music production to songwriters & recording artists. Since working with clients such as BET, OWN, ABC, Universal and more, DigitalBeatz® has made its music production services readily available to the world. 
WHAT CAN I DO WITH THE INSTRUMENTALS I LICENSE FROM DigitalBeatz®? 
With any of our 4 for-profit licenses (Basic, Premium, Premium Pro, Unlimited, and Custom) you can perform and sell the song you make with our instrumental on any digital distribution platform (Spotify, YouTube, iTunes, Tidal, etc.) with no earnings caps/limits, pending on the lease of purchase. 
Our more popular non-exclusive for-profit licenses (Basic & Premium Pro) are 100% royalty-free. This means you can push your song, and not have to worry about paying us a dime more than the small initial license fee. 
Here are our 2 main restrictions on non-exclusive licenses: 
The term length of your license, We prohibit 3rd party sync license deals. In other words, you are not allowed to license the song to any 3rd party publishing company. 
HOW LICENSING WORKS: NON-EXCLUSIVE VS. EXCLUSIVE LICENSES (IN GENERAL) 
Generally speaking, when you license an instrumental, there are usually two main options: "non-exclusive" & "exclusive". We have four non-exclusive licenses (Basic, Premium, Premium Pro & Unlimited), and two exclusive licenses (Exclusive & Custom). 
Non-exclusive licenses: When you purchase a non-exclusive license, you're simply paying us for permission to use the instrumental. It's essentially a lease. You do not own the beat. We retain full ownership of the beat and can continue to license that same beat to other artists. We clearly define what you get with each license in the next section. 
 
Exclusive licenses: The buyer of this license will retain Full Rights to the beat/Instrumental. The beat/instrumental will be removed from all existing sites, advertised as "SOLD" and will no longer be sold.!  With our custom beat service, you're automatically granted exclusive rights to the instrumental we create for you. We request 50% of publishing (for the song) for any exclusive license acquisition, whether it's from earning it on a pre-made beat, for a custom beat we made for you, or an exclusive license purchased from the exclusive beats catalog. 
Here are a few benefits of attaining exclusive rights: 
The beat can no longer be licensed out to others. 
You have the full right to license your song out to 3rd party publishing companies for TV/Film, etc. 
The contract lasts forever, so you don't have to worry about your contract expiring. 
You own the masters to the song.
For more information about our licensing, click here: